EMBROIDERY MACHINE DESIGNS
HAFT KOMPUTEROWY - WZORY
PROGRAMY WZORY DO HAFCIAREK
STICKMASCHINE STICKDATEIEN PUNCHENUNG
 Always

Free Charge Quotation Stitches & Price !
Zawsze Bezpłatna Wycena !!!
stickdateien mustern nach stickmaschinen
naehmaschine dateien erstellung, fertigung stickmustern für stickereimaschinen
ZSK Tajima Toyota Brother Barudan Inbro SWF
(.dst, .dsz, .emb  Wilcom, GiS, Pulse, Compucon)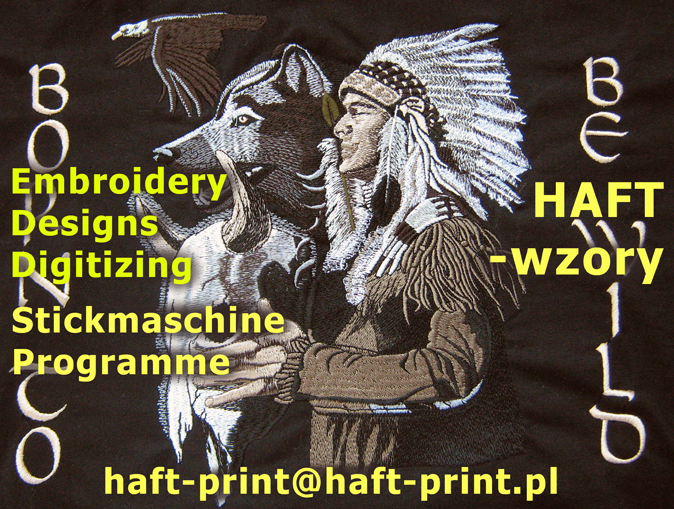 EMBROIDERY MACHINE DESIGNS
digitizing punching vectorizing
creating patterns designs for embroidery machines
Tajima Toyota Barudan Brother ZSK SWF Imbro Elna Janome Bernina Melco Richpeace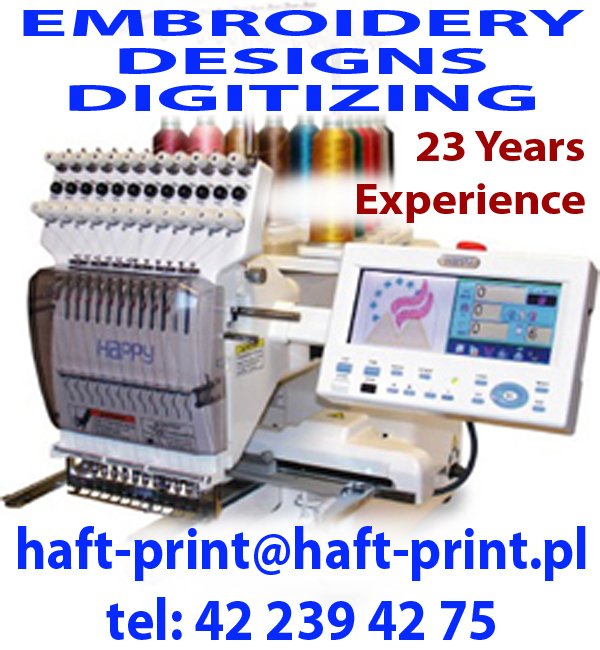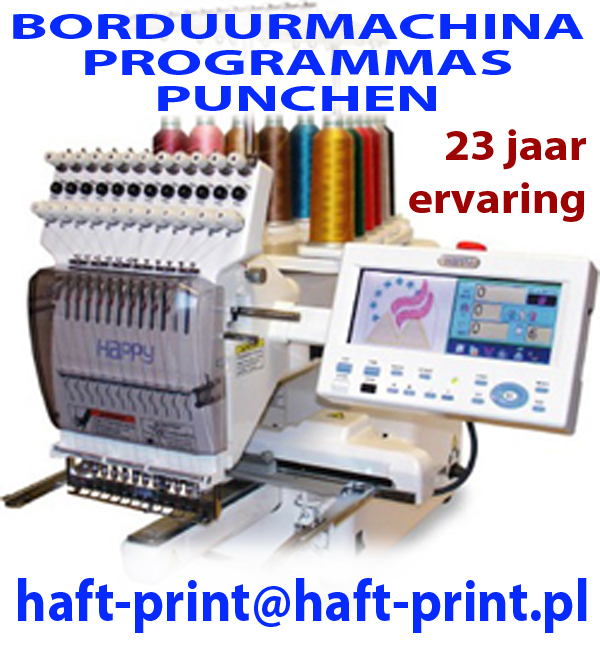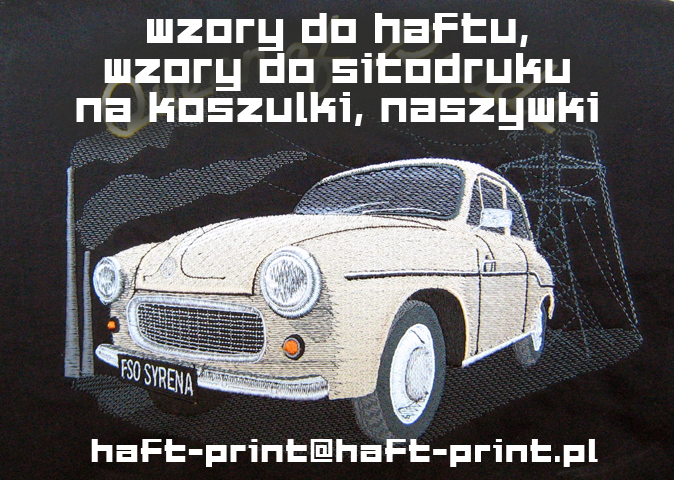 converting graphic files to for embroidery machine designs  machine disquettes, creating embroidery designs from picture .jpg, .cdr, .ai, bitmap .bmp to embroidering machines dst emb inb dsz pxf zsk, embroidered portraits of peoples, animals, horses, cats, dogs, cars, trucks.
Konvertieren von Grafikdateien

für

Stickmaschine

Entwürfe

Maschine

disquettes

schaffen

Stickmotive von

Bild.

jpg,

.

cdr,

.

ai,

Bitmap.

bmp zu

Stickmaschinen

dst

emb

inb

dsz

pxf

ZSK,

bestickte

Porträts von

Menschen

, Tiere, Pferde, Katzen, Hunde

, Autos, Lastwagen

.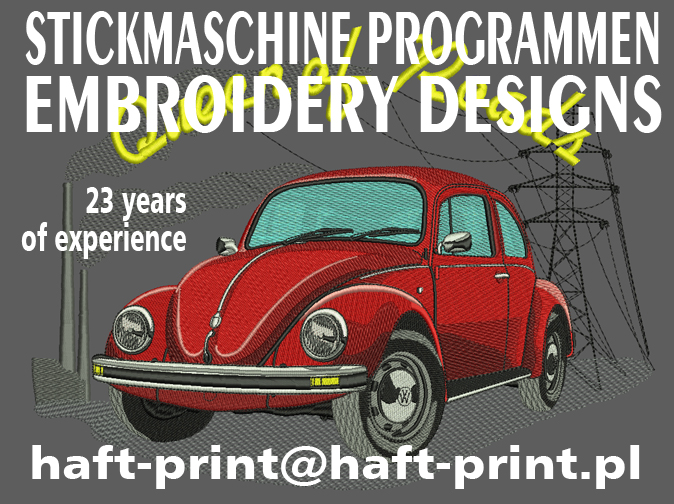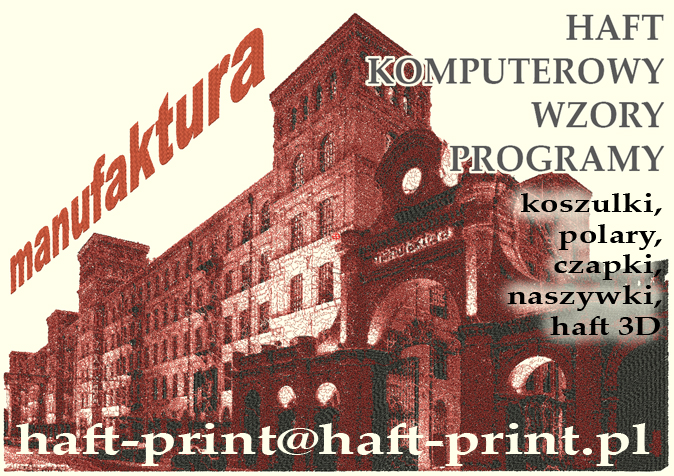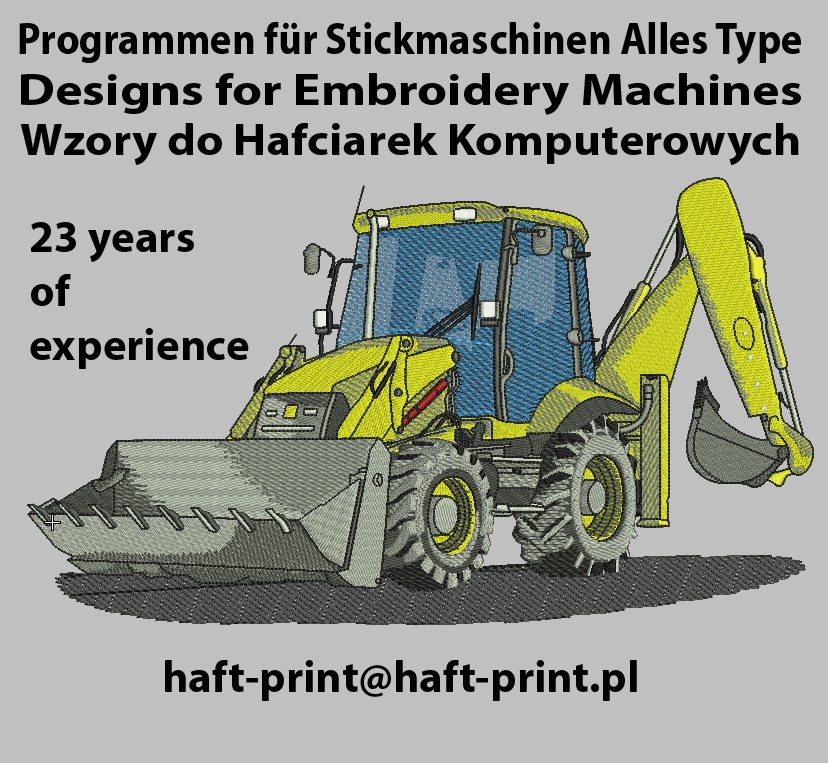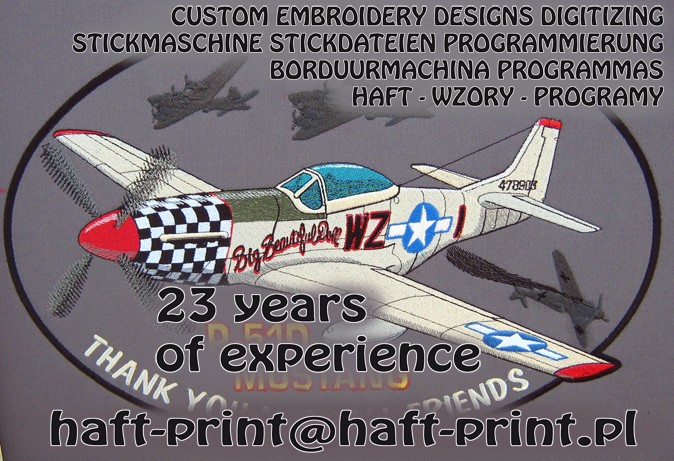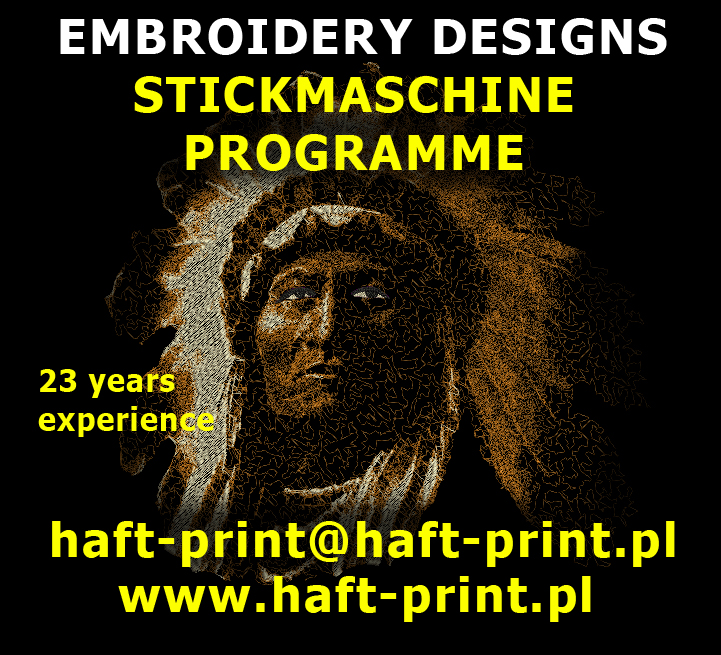 fso syrena fsm maluch fiat126p fso warszawa 223 haft komputerowy nadruki na koszulce drukowanie koszulek haft na koszulce syrena honda suzuki hayabusa kawasaki ninja ferrari vw beetle warszawa naszywki plakietki motorowe motoryzacyjne haftowanie wyszywanie koszulek napisy na koszulce.jpg
ford mustang chevrolet camaro naszywka naszywki dla klubów motocyklowych koszulki dla motocyklistów wyszywanie plakietek dla motocyklistów haft na koszulce haftowanie koszulek koszulki stedman fruit of the loom adler koszulki dystrubutor koszulek stedman fruit of the loom promostars koszulki jhk koszulki polska szycie wyszywanie naszywek plakietek zhp programowanie haftu programowanie hafciarki programy do hafciarek program do haftu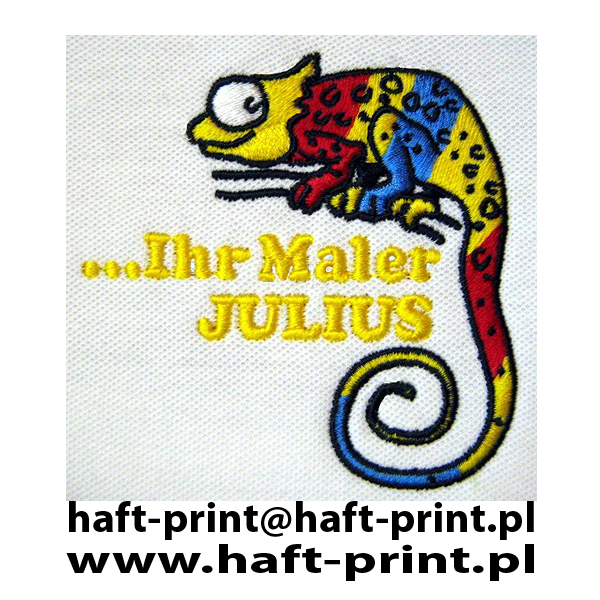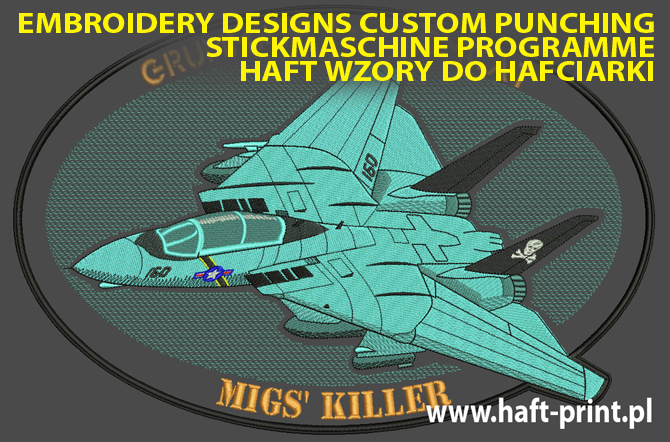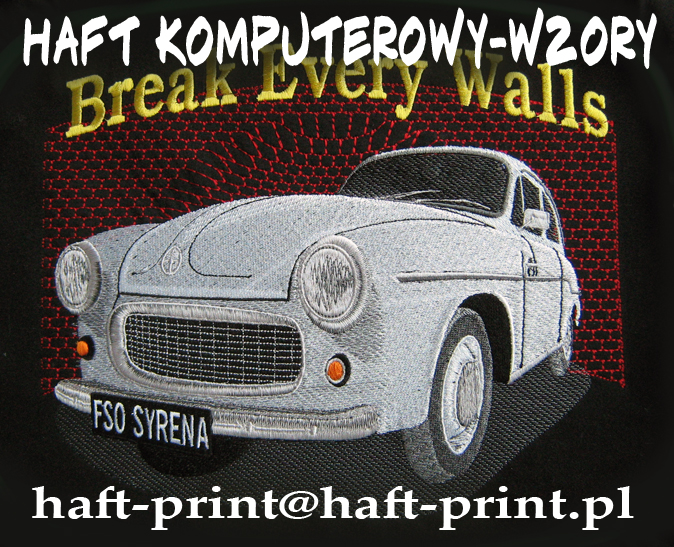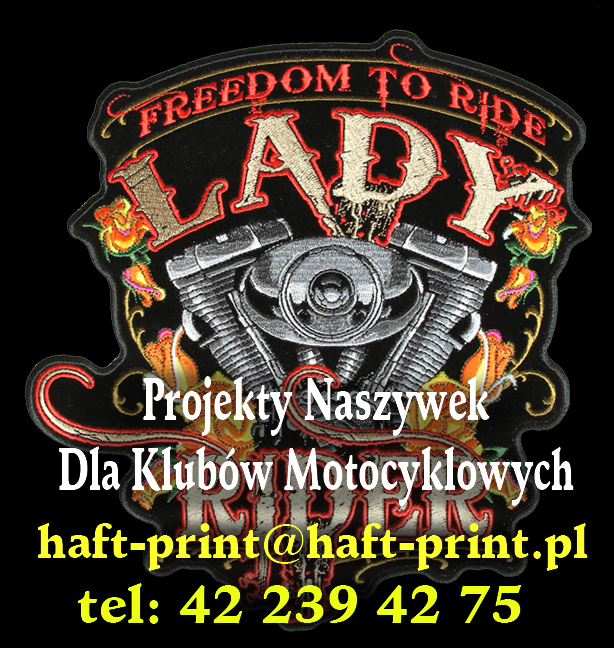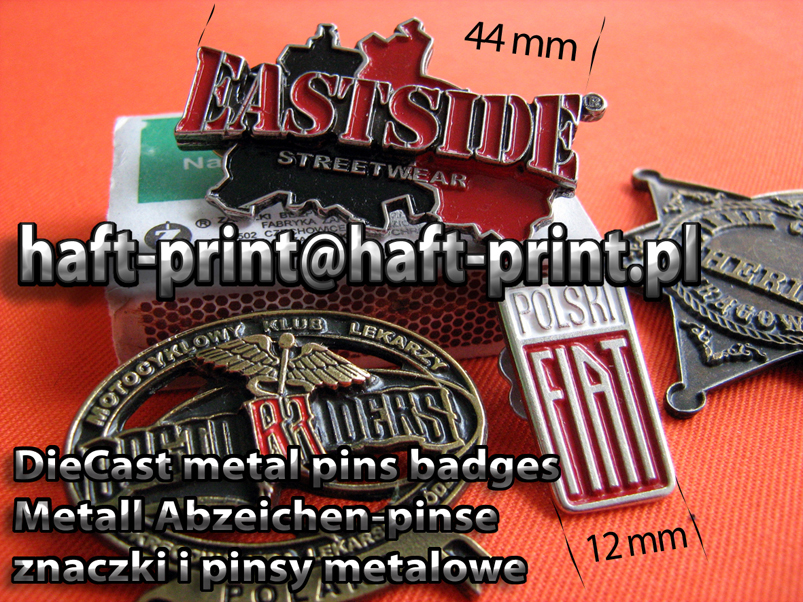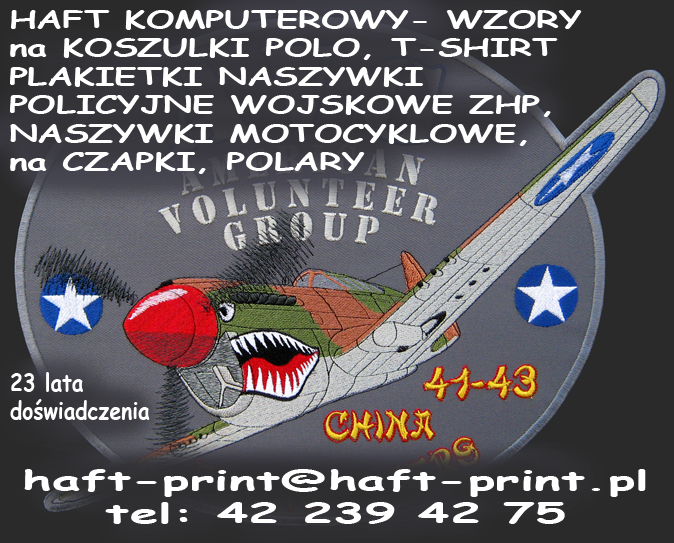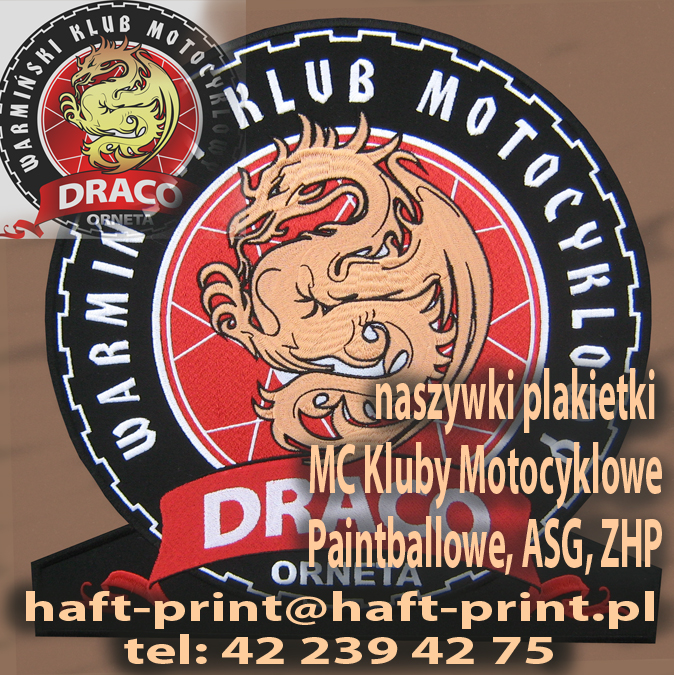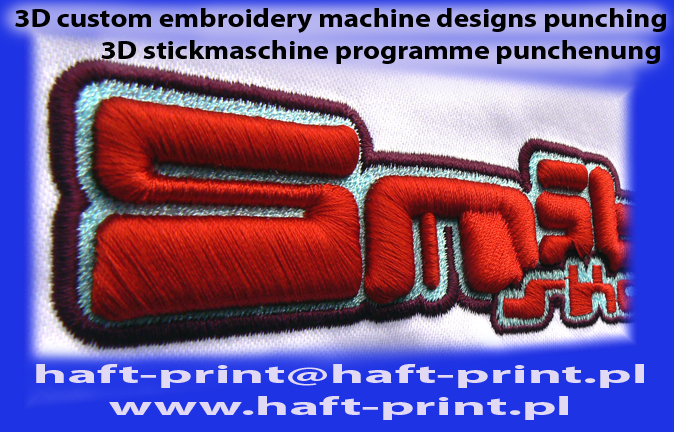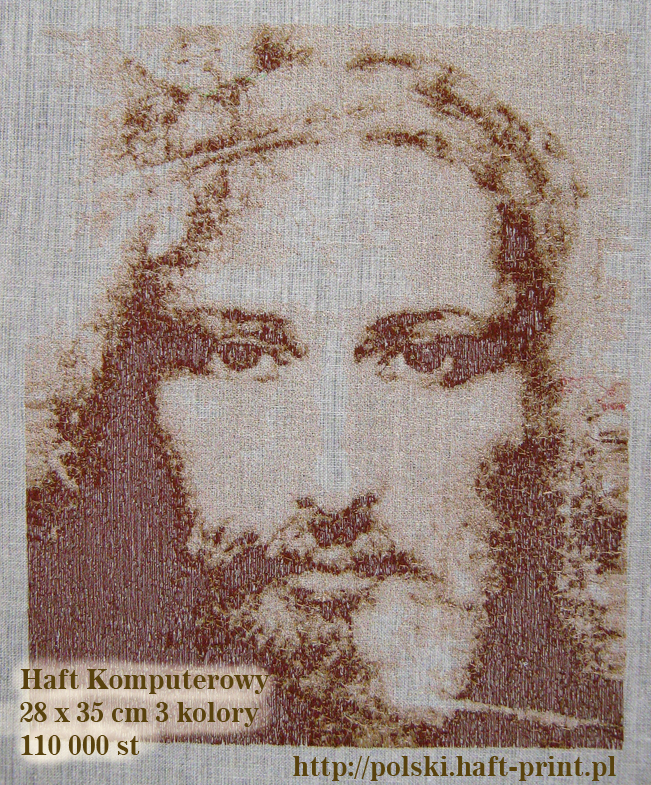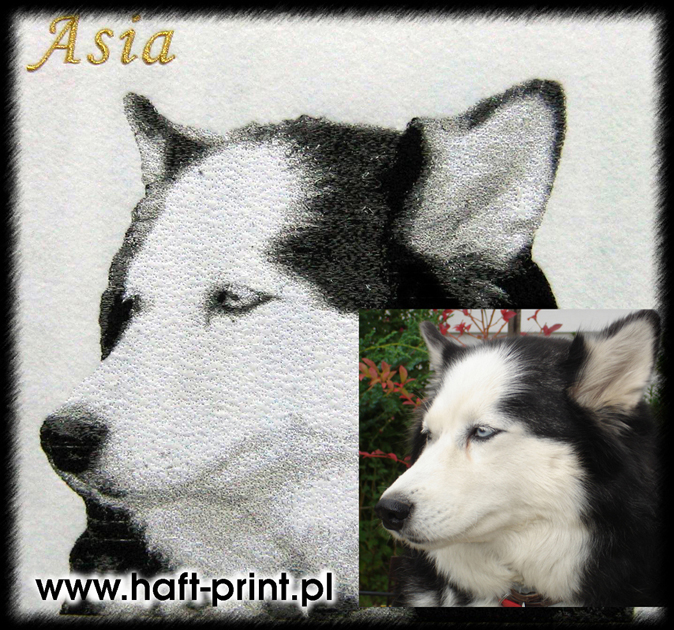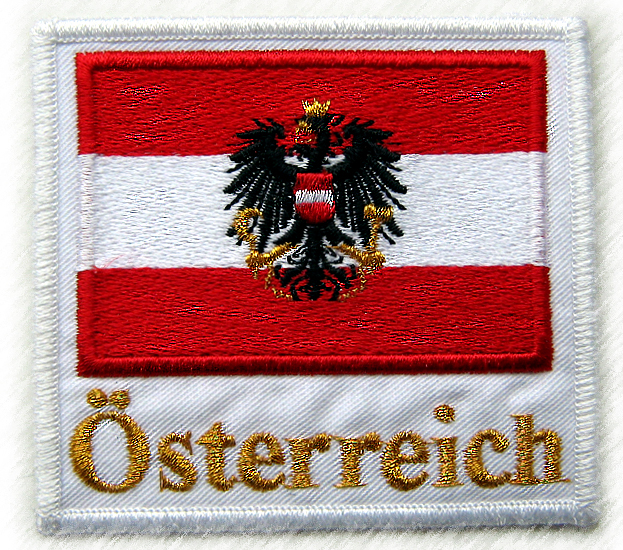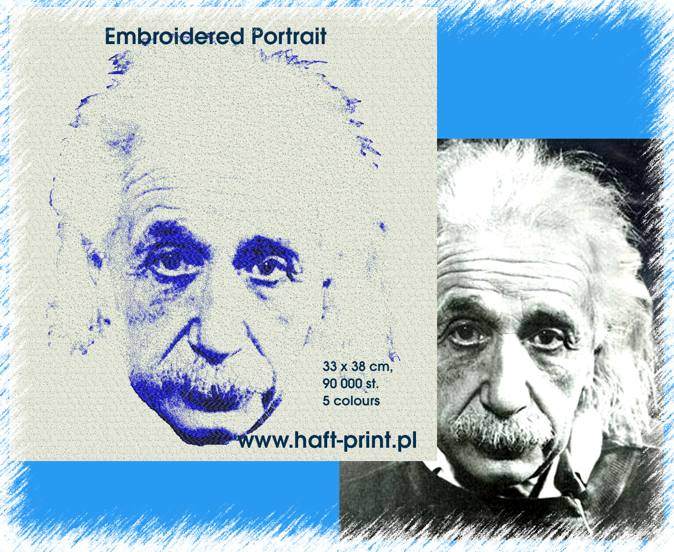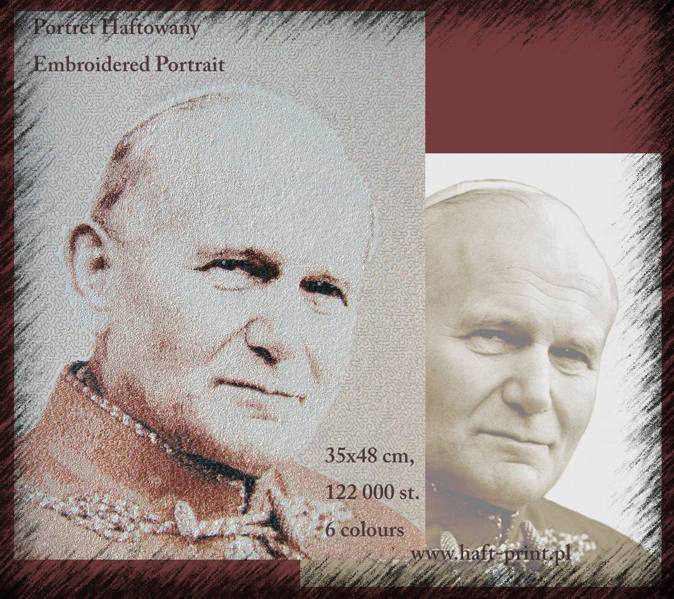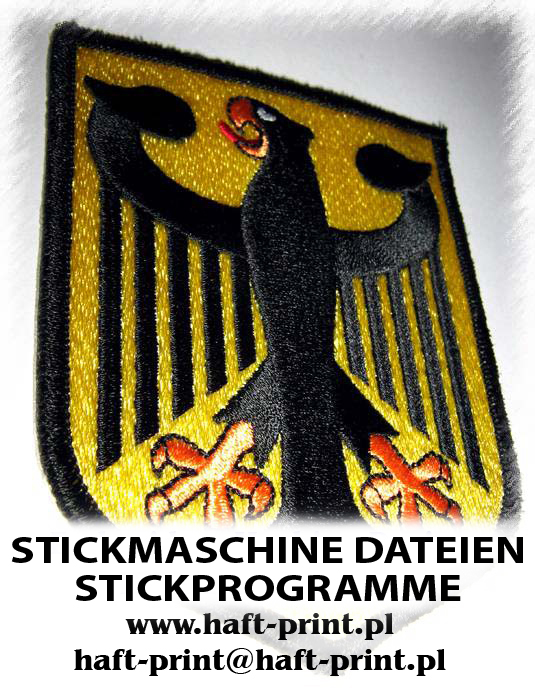 WARBIRDS WARPLANES AIRCRAFTS OLD PLANES, ALTE FLUGZUGE, ALTE WAGEN, OLD CARS, PORTRAITS, FROM PICTURE PHOTO TO EMBROIDERED DESIGNS PATCHES BADGES WITH WARBIRDS,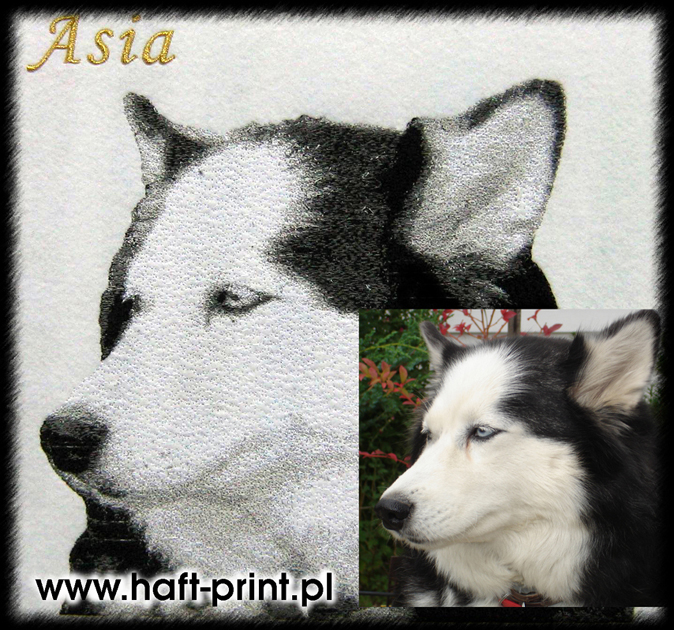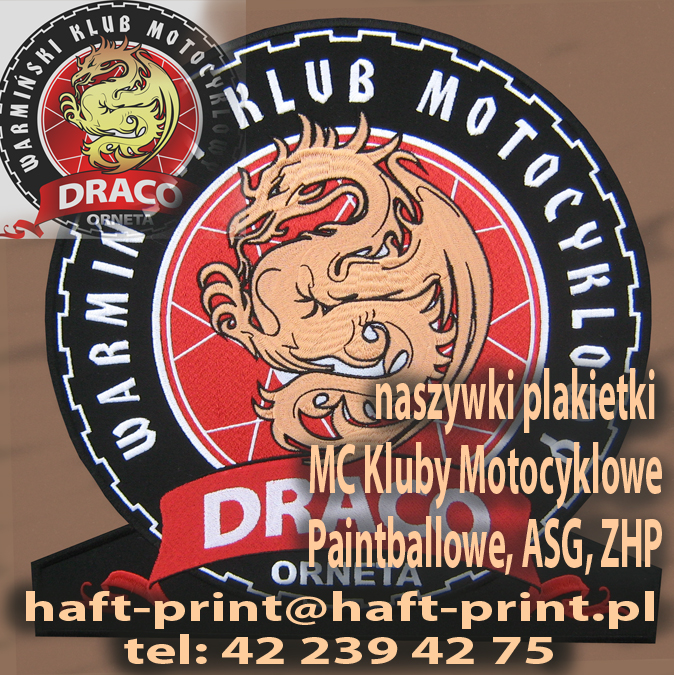 Bitmap Pixelgrafik vektorizierung konvertieren Aus Bilde-Foto nach Vectorgrafik
nach Stickerei und Siebdruckerei
aus .bmp, .jpg nach .eps, .ai, .cdr Converting Bitmaps to Vectors for Pantone ScreenPrinting Konwertowanie bitmap na wektory  - .cdr, .eps   Bitmap Pixelgrafik vektorizierung aus bilde foto nach vectorgrafik nach stickerei stickerei  eps ai jpg cdr pcx png gif converting bitmaps to vectors konwertowanie bitmap 
Professional professionell stickmaschinen für profi industrie stickmaschinen Bestickungsmaschine stickmaschine.de
punch book punchen buche profi Berufs-stickmaschine zum profis stickmaschinen.de punchen.de stickmuster.de
stickvorlage.de  Professional professionell profi insdustrie stickautomaten professionele Nähmaschinen.de
stickgarne.de stickmaschine garne faden für stickmaschine Nähmaschinen madeira marathon gunold isacord profi garne
faden Bestickungsmaschine ZSK SWF INBRO TAJIMA BARUDAN BROTHER TOYOTA AXIOM RICHPEACE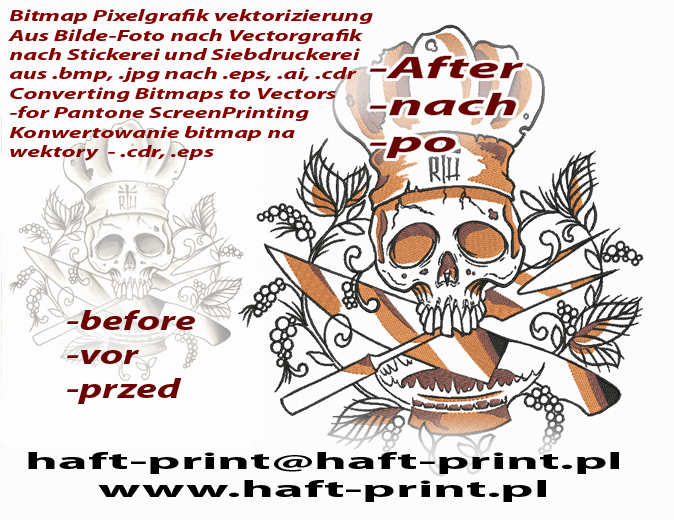 alte flugzeuge WW2 WWII aircrafts warbirds warplane propeller planes besticken bedruken embroidered pictures badges patches t-shirts caps with airplanes mit flugzeuge panzer tanks haftowane samoloty drukowanie koszulek z

personal personalized custom własne osobiste logo na zyczenie according to your wishes nach Ihren Wünschen persönlich nach Ihren Wünschen Zeichnen von Grafiken stickmaschine stickmuster logo sticklogo stickvorlage
programme programmierung punchen volgens uw wensen borduurmachinas programma patroon logo borduurwerk patrone punching digitizing digitalizing vectorizing embroidery designs digitizing digitalizing vectorizing patterns
designs 3D puffy for embroidery machines haft wzory hafciarskie wzory do hafciarki programy do haftu stickmaschine dateien punchenung embroidery designs digitizing haft wzory do haftu komputerowego wzory programy do
hafciarki wzory do hafciarek programowanie haftu stickmaschine programmierung stickprogramme stickdateien herstellung erstellen punchenung vectorization bitmaps vectorizing for embroidery machine mustern nach
stickmaschinen erstellung programmierung fertigung herstellung Näherei stickmustern nach für Nähmaschine stickmaschinen Nähdateien Nähmaschineprogramme hersteller stickvorlagen programme programmierung dateien nach zum für
stickereimaschine musterbezeichnung
embroidery designs poland polen stickmaschineprogramme in polen embroidery digitizing service poland embroidery designs software programmierung für stickmaschinen naehmaschinen polen poland embroidery embroidery designs poland polen stickmaschineprogramme in polen embroidery digitizing service poland embroidery designs software programmierung fur stickmaschinen naehmaschinen polen poland embroidery embroidery designs poland polen stickmaschineprogramme in polen embroidery digitizing service poland embroidery designs software programmierung für stickmaschinen Erstellung von stickdateien stickdaten stickmustern fertigung von stickvorbilden stickmodellen stickmotiven stickerei motiven modellen bilder
Vektorisieren Digitalisieren von Bitmaps für die Stickerei Siebdruck Siebdruck-Matrix-Designs Schablonen Muster zum Sticken Computerized Stickmaschine-Karten-Daten für Stickerei disquettes Mikroplatten Stiche pendrives Sticks Musteraufbau Gestaltung Digitalisierung Vektorisierung Vektorisierung Digitalisierung Verkauf zu schaffen machen Bitmaps Cliparts Cliparts Vektoren Stickerei Designs Designs Bitmaps. jpg. bmp. eps Vektorisierung Konvertierung von Bitmaps in Vektoren. eps für Stickerei von Bitmap vektor aus. jpg. psx. bmp zu. eps. cdr. dst. pes. pec. exp. ai konvertieren konvertiert Bilder Bilder, die auf Vektoren in CorelDraw-Datei Stickerei-Datei Tajima Toyota Barudan Brother Melco Amaya ZSK Happy KSM Pfaff Warbirds Krieg II Flugzeuge Flugzeuge Flugzeugen nordamerikanischen mustang Mitchell B-25 Flying Fortress B-17 Supermarine Spitfire PZL P11c Bf109 mir 262 Focke-Wulf Fw 190 messerschmitt F-16 Fighting Falcon bestickten Kappen gedruckten T-Shirt Polo-Shirts bedruckt bestickt Luftfahrt Muster Cliparts mustern Vektorisieren Digitalisieren Bitmaps für Stickerei Siebdruck Siebdruck-Matrix-Designs Muster zum Sticken Computerized Stickmaschine-Karten-Daten für die Stickerei disquettes Mikroplatten Stiche pendrives Sticks Musteraufbau Gestaltung Digitalisierung Vektorisierung Vektorisierung Digitalisierung Verkauf zu schaffen machen Bitmaps Cliparts Designs Stickerei Cliparts Vektoren Designs Bitmaps. jpg. bmp. eps Vektorisierung Konvertierung von Bitmaps in Vektoren. eps für Stickerei
american native indian native indian embroidery machine designs bisons american buffalo grizzly bears wolfs embroidery designs digitizing punching american native designs paintings landscapes great canyon embroidey design american native indian native indian embroidery machine designs bisons american buffalo grizzly bears wolfs embroidery designs digitizing punching american native designs paintings landscapes great canyon embroidey design for embroidery machines Tajima Toyota Brother Melco Amaya Happy Barudan pxf jpg emb wilcom pulse Gis zsk dst dsz from eps ai cdr to embroidery files converting photo to embroidery files
projektowanie wzorów hafciarskich wykonywanie projektów do haftu komputerowego projektowanie haftu
projektowanie wzorów do hafciarek komputerowych projektowanie wzorów do maszyn hafciarskich
konwertowanie grafiki do haftu
samolotami embroidered warplanes of WW2 WWII planes p-51 Mustang BF109 Messerschmitt Me262 Fokker Dr1 aircrafts flugzeuge aufnahern badges patches FW 190 P-38 Lightning B-17 Flying Fortress IL2  Supermarine Spitfire
Mosquito badges kurtki lotnicze naszywki plakietki z samolotami haftowane wyszywanie drukowanie na koszulki lotnicze militarne patches memphis belle american pilot jackets jacketen bombers pilots shirts caps basecaps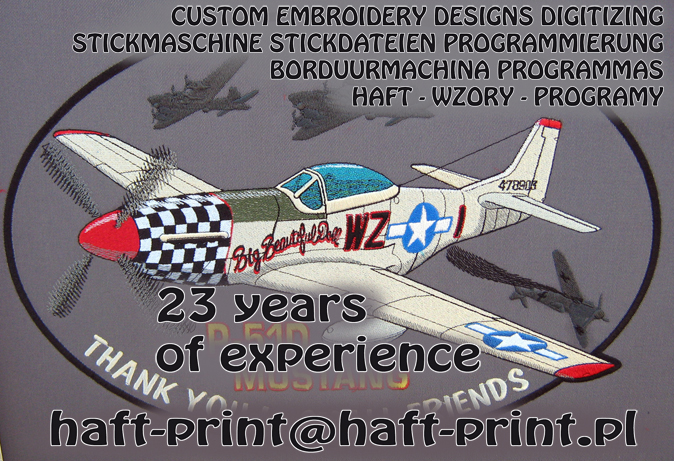 embroidery designs punching digitizing creating patterns designs software for embroidery machines designs patterns Tajima Toyota Amaya Melco Happy Brother Barudan Janome ZSK digitizing digitalizing vectorizing embroidery designs digitizing digitalizing vectorizing patterns designs 3D puffy  for embroidery machines haft wzory hafciarskie wzory do hafciarki programy do haftu
komputerowego do hafciarki aus foto to stickerei stickmaschine from photo to embroidery portaits of animals peoples besticken portraten komputerowej Tajima ZSK Barudan Brother Toyota Inbro Bernina Elna Janome Ksm Pfaff dst pes pxf art dsz wilcom emb punching embroidery designs erstellung fertigung punchenung stickdateien stickmaschine mustern 3D vektorizierung nach für zum stickerei stickmaschinen Erstellung Programmierung Konvertieren Vektorizierung bitmapen .jpg .bmp .eps .png to .pdf .ai .cdr .dst .art pes .pec .xxx dsz von herstellung stickmaschine stickmuster stickdatei stickvorlage programmierung von für stickmaschinen ZSK Tajima Brother Barudan INBRO SWF für polos t-shirt mutzen kappen baseballcaps aufnähern badges patches abzeichen NähabzeichenWilcom Compucon Pulse GIS Wings logos für polos caps mutzen polar fleece jacken fertigung programme daten disketten pendrives für stickmaschine stickautomaten stickerei maschinen alles typen stickmuster stickdatei stickvorlage programmierung von für stickmaschinen ZSK Tajima KSM Inbro Brother Toyota embroidery designs digitizing punching punchenung erstellung stickmaschine naehmaschine mustern dateien stickdateien haft wzory haftu komputerowego digitizing punching punchenung erstellung stickmaschine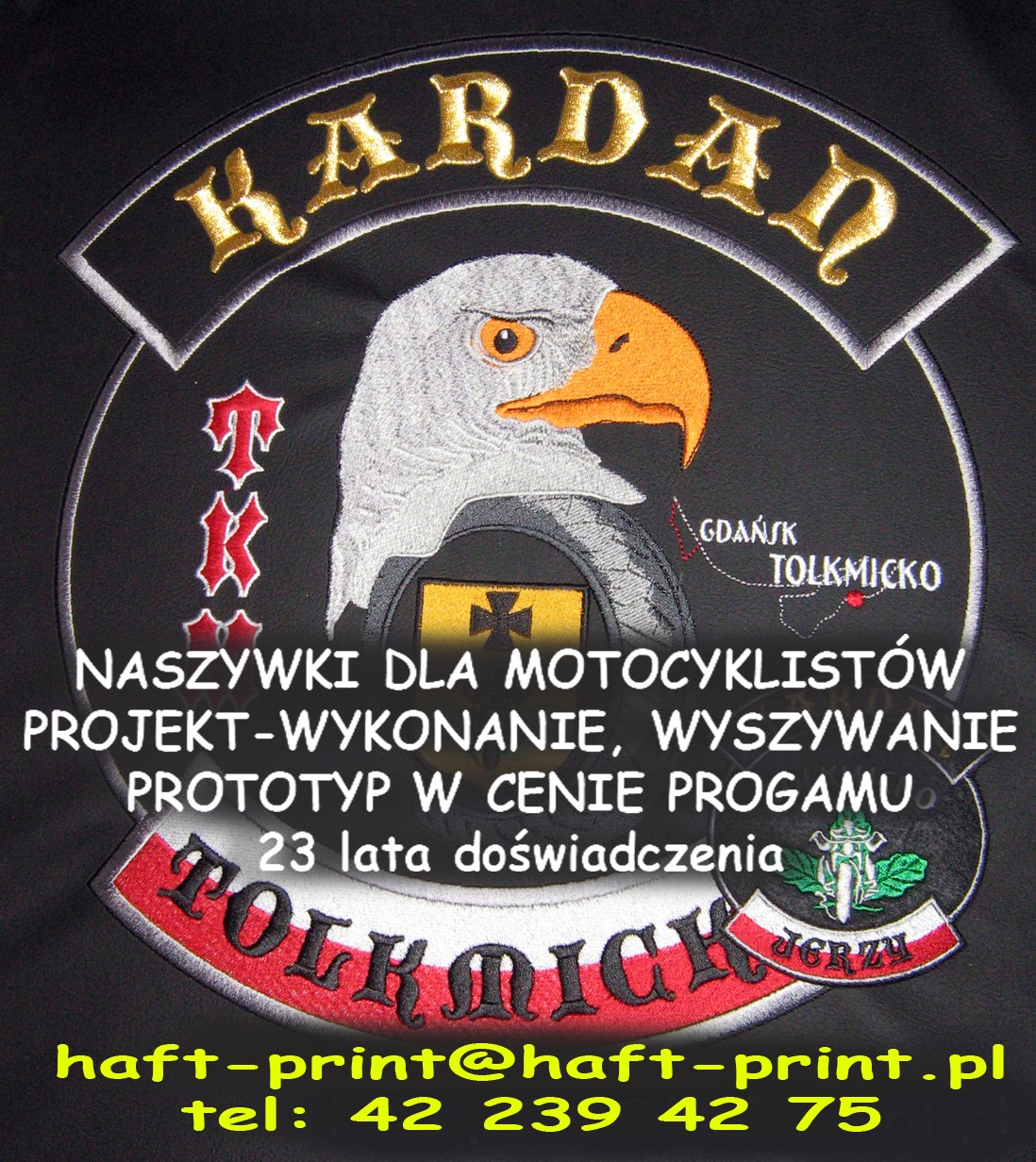 fso syrena fsm maluch fiat126p warszawa 223 haft komputerowy nadruki na koszulce drukowanie koszulek haft na koszulce syrena ferrari vw beetle warszawa naszywki plakietki
motorowe motoryzacyjne haftowanie wyszywanie koszulek napisy na koszulce naszywki wojskowe plakietki zhp naszywki dla policji naszywki dla woska naszywki lotnicze
plakietki lotnicze emblematy lotnicze breloki z samolotem znaczki lotnicze znaczki z samolotami wyszywanie haftowanie plakietek zhp fso syrena fsm maluch fiat126p warszawa
223 haft komputerowy nadruki na koszulce drukowanie koszulek haft na koszulce syrena ferrari vw beetle warszawa naszywki plakietki motorowe motoryzacyjne haftowanie
wyszywanie koszulek napisy na koszulce naszywki wojskowe plakietki zhp naszywki dla policji naszywki dla woska naszywki lotnicze plakietki lotnicze emblematy lotnicze
breloki z samolotem znaczki lotnicze znaczki z samolotami wyszywanie haftowanie plakietek zhp haft wzory wykonywanie projektowanie haft wzory gotowe darmowe wzory do haftu
darmowe wzory do wyszywania za darmo

haft komputerowy na koszulce haftowanie koszulek fsm syrena fso warszawa 223 fiat 125p fiat 126 haft wyszywanie drukowanie na koszulce nadruki na koszulkach drukowanie
koszulek haftem komputerowym wzory do haftu komputerowego wzory do hafciarek komputerowych tajima brother janome zsk barudan axiom fieya fajima konwersja grafiki na haft
jpg na dst pes pec eps na dst zdjęcie haftowane haftowanie ze zdjęcia haft komputerowy ze zdjęcia portrety dzieci haftowane portrety jan paweł II papież haftowany
wyszywany wyszywanie na koszulce wyszywanie napisów na koszulce haftowanie napisów nadruki na koszulkach t-shirt na czapce na czapkach haft 3d na czapce promostars stedman
fruit of the lomm sprzedaż koszulek z haftem z nadrukiem portrety aut samochodów making portrais of cars horses animals dogs cats embroidered portraits of einstain of pope
wyszywany portret papieża haftowy portret papieża jana pawła II wykonywanie haftu na koszulce wykonywanie haftu na koszulkach stedman promostars fruitoftheloom lynka
sema-print avalon t-shirt4you czapki promostars sklep z koszulkami sklep z czapkami promostars czapki flexfit czapki newera haft na czapce 3d haftowanie liter 3d
wyszywanie napisów 3d robienie programów do hafciarek do haftu komputerowego

fso syrena fsm maluch fiat126p fso warszawa 223 haft komputerowy nadruki na koszulce drukowanie koszulek haft na koszulce syrena honda suzuki hayabusa kawasaki ninja
ferrari vw beetle warszawa naszywki plakietki motorowe motoryzacyjne haftowanie wyszywanie koszulek napisy na koszulce.jpg
ford mustang chevrolet camaro naszywka naszywki dla klubów motocyklowych koszulki dla motocyklistów wyszywanie plakietek dla motocyklistów haft na koszulce haftowanie
koszulek koszulki stedman fruit of the loom adler koszulki dystrubutor koszulek stedman fruit of the loom promostars koszulki jhk koszulki polska szycie wyszywanie
naszywek plakietek zhp programowanie haftu programowanie hafciarki programy do hafciarek program do haftu
 PROJEKTOWANIE WYKONYWANIE HAFTOWANIE NASZYWEK PLAKIETEK DLA KLUBU MOTOCYKLOWEGO,
HAFT NA KURTCE SKÓRZANEJ, WYSZYWANIE NAPISÓW NA KURTKACH, KOSZULKACH
digitizing digitalizing vectorizing embroidery designs digitizing digitalizing vectorizing patterns designs 3D puffy  for embroidery machines haft wzory hafciarskie wzory do hafciarki programy do haftu komputerowego do
hafciarki aus foto to stickerei stickmaschine from photo to embroidery portaits of animals peoples besticken portraten komputerowej Tajima ZSK Barudan Brother Toyota Inbro Bernina Elna Janome Ksm Pfaff dst pes pxf art dsz
wilcom emb punching embroidery designs erstellung erstellen herstellung herstellen fertigung punchenung punchen stickdateien stickmaschine mustern 3D vektorizierung nach für zum stickerei stickmaschinen Erstellung
Programmierung Konvertieren Vektorizierung bitmapen .jpg .bmp .eps .png to .pdf .ai .cdr .dst .art pes .pec .xxx dsz von herstellung stickmaschine stickmuster stickdatei stickvorlage programmierung von für stickmaschinen
ZSK Tajima Brother Barudan INBRO SWF für polos t-shirt mutzen kappen baseballcaps aufnähern badges patches abzeichen NähabzeichenWilcom Compucon Pulse GIS Wings logos für polos caps mutzen polar fleece jacken fertigung
programme daten disketten pendrives für stickmaschine stickautomaten stickerei maschinen alles typen stickmuster stickdatei stickvorlage programmierung von für stickmaschinen ZSK Tajima KSM Inbro Brother Toyota embroidery
designs digitizing punching punchenung erstellung stickmaschine naehmaschine mustern dateien stickdateien haft wzory haftu komputerowego digitizing punching punchenung erstellung stickmaschine naehmaschine mustern dateien
stickdateien haft wzory haftu komputerowego borduur programmas 3D borduurwerk patronen voor borduur machinas programmas punching service cheapest price preise china embroidery designs custom embroidery designs china
deutchland stickprogramme stickerei service
Verändern Umwandlung umwandeln Bilder grafiken in Stickereien fotobilde Service Provider for Embroidery Digitizing & Vector Conversion altering conversion convert images to embroidery files het veranderen van conversie
afbeeldingen omgezet worden naar borduur afbeeldingen service konwersja konwertowanie przerabianie obrazków zdjęć do haftu na haft do hafciarki erstellung erstellen programmierung fertigung herstellung Näherei mustern nach
für Nähmaschine stickmaschinen Nähdateien Nähmaschineprogramme hersteller herstellen punchen stickvorlagen programme programmierung dateien nach zum für stickereimaschine musterbezeichnung stickerei programmierung
stickprogramme erstellung von stickdateien fertigung von dateien nach für stickmaschine programme von für stickereimaschine stickautomaten stickvorlage aus foto grafiken fotobilde
digitizing digitalizing vectorizing embroidery designs digitizing digitalizing vectorizing patterns designs 3D puffy for embroidery machines haft wzory hafciarskie wzory do hafciarki programy do haftu komputerowego do
hafciarki aus foto to stickerei stickmaschine from photo to embroidery portaits of animals peoples besticken portraten komputerowej Tajima ZSK Barudan Brother Toyota Inbro Bernina Elna Janome Ksm Pfaff dst pes pxf art dsz
wilcom emb punching embroidery designs erstellung fertigung punchenung stickdateien stickmaschine mustern 3D vektorizierung nach für zum stickerei stickmaschinen Erstellung Programmierung Konvertieren Vektorizierung
bitmapen .jpg .bmp .eps .png to .pdf .ai .cdr .dst .art pes .pec .xxx dsz von stickmaschine stickmuster stickdatei stickvorlage programmierung von für stickmaschinen ZSK Tajima Brother Barudan INBRO SWF Wilcom Compucon
Pulse GIS Wings logos für polos caps mutzen polar fleece jacken fertigung programme daten disketten pendrives für stickmaschine stickautomaten stickerei maschinen alles typen stickmuster stickdatei stickvorlage
programmierung von für stickmaschinen ZSK Tajima KSM Inbro Brother Toyota embroidery designs digitizing punching punchenung erstellung stickmaschine naehmaschine mustern dateien stickdateien haft wzory haftu komputerowego
digitizing punching punchenung erstellung stickmaschine naehmaschine mustern dateien stickdateien haft wzory haftu komputerowego borduur programmas 3D borduurwerk patronen voor borduur machinas programmas
 
digitizing digitalizing vectorizing embroidery designs digitizing digitalizing vectorizing patterns designs 3D puffy for embroidery machines haft wzory hafciarskie wzory do hafciarki programy do haftu stickmaschine dateien
punchenung embroidery designs digitizing haft wzory do haftu komputerowego wzory programy do hafciarki wzory do hafciarek programowanie haftu stickmaschine programmierung stickprogramme stickdateien herstellung erstellen
punchenung vectorization bitmaps vectorizing for embroidery machine mustern nach stickmaschinen erstellung programmierung fertigung herstellung Näherei stickmustern nach für Nähmaschine stickmaschinen Nähdateien
Nähmaschineprogramme hersteller stickvorlagen programme programmierung dateien nach zum für stickereimaschine musterbezeichnung
stickmaschine dateien erstellung fertigung vektorizierung bitmapen von nach stickprogramme fur nach stickmaschine borduurmachina programmas embroidery designs haft wzory do haftu do hafciarki digitizing embroidery designs
stickmaschine programme

alte flugzeuge WW2 WWII aircrafts warbirds warplane propeller planes besticken bedruken embroidered pictures badges patches t-shirts caps with airplanes mit flugzeuge panzer tanks haftowane samoloty drukowanie koszulek z
samolotami embroidered warplanes of WW2 WWII planes p-51 Mustang BF109 Messerschmitt Me262 Fokker Dr1 aircrafts flugzeuge aufnahern badges patches FW 190 P-38 Lightning B-17 Flying Fortress IL2  Supermarine Spitfire
Mosquito badges kurtki lotnicze naszywki plakietki z samolotami haftowane wyszywanie drukowanie na koszulki lotnicze militarne patches memphis belle american pilot jackets jacketen bombers pilots shirts caps basecaps
Bitmap Pixelgrafik vektorizierung konvertieren Aus Bilde-Foto nach Vectorgrafik
nach Stickerei und Siebdruckerei
aus .bmp, .jpg nach .eps, .ai, .cdr Converting Bitmaps to Vectors for Pantone ScreenPrinting Konwertowanie bitmap na wektory  - .cdr, .eps   Bitmap Pixelgrafik vektorizierung aus bilde foto nach vectorgrafik nach stickerei stickerei  eps ai jpg cdr pcx png gif converting bitmaps to vectors konwertowanie bitmap
haft wzory do haftu komputerowego programy do haftu haft komputerowy wzory programy wykonywanie wzorów programów do hafciarki wzory do hafciarek motywy desenie do hafciarki Tajima Brother ZSK Elna Janome Happy Barudan
Stickdateien Logos aus bitmapgrafik Vektorgrafik erstellen
Wo bekommt man kostenlose Cliparts zum erstellen von Stickdateien Benutzerdefinierte Grafiken Porträts Stickerei Stickerei Veränderung Grafiken
besticken programmierung bestickung Portraits von Hunden Katzen Pferde Tiere kostenlose Cliparts zum erstellen von Stickdateien Benutzerdefinierte Grafiken Porträts Stickerei Stickerei Veränderung Grafiken haftowane
wyszywane portrety zwierząt psów kotów koni haftowanie wyszywanie embroidered portraits of animals dogs cats peoples
Wir erstellen Stickdateien Stickprogramme aus Ihren Vorlagen aus grafiken nach stickmaschine nach stickmuster cliparts stickclipart stickgrafik
kostenlose Cliparts zum erstellen von Stickdateien Benutzerdefinierte Grafiken Porträts Stickerei Stickerei Veränderung Grafiken Portraits von Männer Hunden Katzen Pferde Tiere Einstein Hitler Marilin Monroe Obama Jezus
Jesus Christ Papież Pope  Adlers Eagles Falcon kostenlose Cliparts zum erstellen von Stickdateien Benutzerdefinierte Grafiken Porträts Stickerei Stickerei Veränderung Grafiken besticken programmierung bestickung Portraits
von Hunden Katzen Pferde Tiere kostenlose Cliparts zum erstellen von Stickdateien Benutzerdefinierte Grafiken Porträts Stickerei Stickerei Veränderung Grafiken haftowane wyszywane portrety zwierząt psów kotów koni
haftowanie wyszywanie embroidered portraits of animals dogs cats peoples stickerei programmierung punchenung punchen von stickautomaten stickmaschine nähmaschine Tajima Brother Elna ZSK PFAFF SINGER SWF

HAFT-PRINT haft wzory programy programowanie haftu haft komputerowy haft krzyzykowy haftowane portrety osób zwierzat koni psów kotów budynków portret haftowany papieża Jan Paweł Marlin Monroe Piłsudski Kaczyński godło
polskie orzeł haftowany wypukły wyszywanie haftowanie portretów przekładanie zdjęć na haft do haftu do hafciarki

stickerei programmierung stickprogramme erstellung von stickdateien fertigung von dateien nach für stickmaschine programme von für stickereimaschine stickautomaten stickvorlage aus foto grafiken fotobilde wektorizierung
vektorizierung vectorization digitalizierung bitmap grafike Pantone farben colour separation Pantone digitizing digitalizing vectorizing embroidery designs digitizing digitalizing vectorizing patterns designs 3D puffy for
embroidery machines haft wzory hafciarskie wzory do hafciarki programy do haftu stickmaschine dateien punchenung embroidery designs digitizing haft wzory do haftu komputerowego wzory programy do hafciarki wzory do
hafciarek programowanie haftu stickmaschine programmierung stickprogramme stickdateien herstellung erstellen punchenung vectorization bitmaps vectorizing for embroidery machine mustern nach stickmaschinen erstellung
programmierung fertigung herstellung Näherei mustern nach für Nähmaschine stickmaschinen Nähdateien Nähmaschineprogramme hersteller stickvorlagen programme programmierung dateien nach zum für stickereimaschine
musterbezeichnung
borduurwerk borduuren borduurprogrammas boruurmachinapatronen borduurpatrone portretten van honden katte paarden dieren mannen Foto geborduurde portretten van honden katten paarden dierlijke mensen met foto's op het
borduurwerk china borduur borduurwerk digitaliseren gevectoriseerd beelden vectorisatie
flagi flaga vlaag flaggen vlaggen van landen Flaggen der Länder stickprogrammen programmierung von stickmaschine borduurmachina borduurwerk haftowane flagi flagi godło haftowane